Prithvi Raj Singh Oberoi, also affectionately known as 'Biki', the doyen of Indian hospitality and Chairman Emeritus of the Oberoi Group, passed away on the morning of November 14, Tuesday. This was confirmed by a spokesperson for the Oberoi Group. At the time of his passing, he was 94 years old.
In a statement, the company expressed profound grief and sorrow, announcing the peaceful passing of their beloved leader, Mr. P.R.S. Oberoi, earlier that day. His death was described as a significant loss for The Oberoi Group and the hospitality industry both in India and internationally.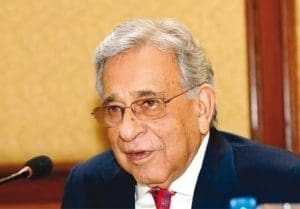 The cremation of PRS Oberoi was scheduled to take place at the Bhagwanti Oberoi Charitable Trust, Oberoi Farm, Kapashera, at 4 pm on the same day. The company invited anyone from within The Oberoi Group and those who knew him to attend and pay their respects, and requested prayers to be held for PRS Oberoi at their hotels and the Corporate Office.
PRS Oberoi served as the Executive Chairman of EIH Limited, the Flagship Company of The Oberoi Group, and the Chairman of Oberoi Hotels Private Limited, the major shareholder of EIH Limited. He was renowned as the man who revolutionized the hotel business in India, placing Oberoi hotels on the map for international luxury travelers through the opening of several luxury hotels in key cities.
Born on February 3, 1929, PRS Oberoi was the son of the late Rai Bahadur MS Oberoi, the founder of The Oberoi Group. His education spanned India, the United Kingdom, and Switzerland. He strongly believed that people were the most valuable asset of any organization and emphasized the importance of quality in hospitality management.
PRS Oberoi's remarkable achievements in the hospitality industry were recognized through numerous awards, including the Padma Vibhushan, India's second-highest civilian honor, in January 2008 for his exceptional service to the country. He also received the Lifetime Achievement Award at ILTM, the '2010 Corporate Hotelier of the World award, the Lifetime Achievement Award, the Businessman of the Year 2008, and the Lifetime Achievement Award at the Ernst & Young Entrepreneur of the Year Awards, among others.
Reva K Singh, Publisher & Editor-in-Chief of Sommelier India said, " Biki not only established a new standard for hospitality in India but he was also a long time friend and supporter of Sommelier India. He will be sorely missed."