ProWine Mumbai a 2-day world-class business event is steaming ahead as the largest event in India for the wine, spirits and hospitality industry as well as for wine and spirit enthusiasts. This global platform, now in India, opens the doors for International and Indian wine and spirit brands to showcase brands and products not only through exhibit displays but also through live tastings, thereby enabling both industry and consumer engagement as well as peer-to-peer contact.
The show is anticipated to bring together the country's community of AlcoBev brands, importers, distributors, wholesalers, and retailers, along with international brands looking to enter the Indian market and noteworthy large-scale buyers including hotels, restaurants, bar owners, and wine & spirit enthusiasts.
Messe Düsseldorf India and All Things Nice are co-organising ProWine Mumbai 2023 on the 24th and 25th of November, at the world-class Jio World Convention Centre in Mumbai. Sommelier India is a media partner of ProWine Mumbai.
Exhibition & Tastings
ProWine Mumbai has grown exponentially since the last edition and this year boasts of large international support from California Wine Institute, Distilled Spirits Council of the United States, Consulate General of The Republic of Argentina, Wines of Portugal with Confederação dos Agricultores de Portugal (CAP), Wines of Chile, Austrade, Tastin'France, Bord Bia, Northern Ireland and The Indo-Italian Chamber of Commerce and Industry, among others; showcasing an array of products. The event has witnessed an encouraging response from the industry with participation of over a thousand brands from across the world covering wines, spirits and allied segments. Products showcased at ProWine Mumbai include brands from Argentina, Australia, Austria, Chile, Colombia, France, Germany, Greece, India, Ireland, Italy, Japan, Mexico, New Zealand, Nicaragua, Northern Ireland, Peru, Poland, Portugal, Scotland, South Africa, Spain and the United States.
Spread across 5000 square meters of gross exhibition space, ProWine Mumbai is expected to feature over a 1000 brands from 150+ companies from across 20+ countries. The show also expects to receive over 5,000 attendees.
To visit, register at www.prowine.in
"It is delightful to see the enthusiasm of the wine and spirits industry to congregate at the 2023 edition of ProWine Mumbai. The show has shown tremendous growth in a quick span of time and this year, an exciting programme is lined up with added features like the ProWine Spirits
Challenge and the ProWine Bartenders' Competition alongside the much sought-after masterclasses and exhibition showcase by leading Indian and International wine and spirits brands. The Craftsmen Discussion is yet another interesting highlight that will talk about the future of craft spirits. We look forward to a great show and wish a fruitful and engaging time to all the participants." states Thomas Schlitt, Managing Director at Messe Düsseldorf India.
Masterclasses
ProWine Mumbai will also host 14 sessions over 2 days of complimentary Masterclasses, bringing together the best of knowledge and a range of wine and spirit tastings. Masterclasses are brought to you by WSET Global, international governments, leading wine authorities, master distillers, and brand representatives.
The ProWine Mumbai Night
The ProWine Mumbai Night promises to be a major networking event bringing together luminaries of the wine and spirits industry, leaders of hospitality, eminent media persons, and key exhibitors from across the world under one roof, making this the most prominent wine and spirit event of the year.
India Wine Awards
India Wine Awards is the country's most prestigious competition that sets the benchmark in excellence by rewarding the best wines, both domestic and international, available in the Indian market. It is put together by the Sonal Holland Wine Academy. The winners at India Wine Awards will be revealed at the glittering ProWine Mumbai Night on the 24th November.
The ProWine Bartenders' Competition
ProWine Mumbai has presented an exceptional platform for talented bartenders in the country to showcase their skills at The ProWine Bartenders' Competition. Bartenders are the backbones for best showcasing spirits and winning cocktail competitions is one of the fastest ways to become well known. Auditions for Round 1 took place earlier this month and finalists will compete onsite at ProWine Mumbai. Judges include Aneesh Bhasin, Co-founder of Svami, an eminent Wine & Spirits Commentator and also voted as GQ India's 30 Most Influential Young Indians; Priyanka Blah, Founder of The Dram Attic and One of Bar World's 100 Most Influential Figures in the Industry Worldwide and Yash Bhanage, Founder of Hunger Ink that runs The Bombay Canteen, O Pedro, Bombay Sweet Shop and Veronica's.
The winning bartender receives the prestigious title 'ProWine Bartender of the Year', an all-expense paid Guest Shift at the historic 'The Bar – The House on Sathorn', Bangkok (On The World's 50 Best Discovery) and a Cash Prize besides recognition in the trade and media.
The ProWine Spirits Challenge
ProWine Mumbai will also be hosting The ProWine Spirits Challenge this year. This event will facilitate a contest between the makers of alcoholic beverages, in which spirit brands can compete to substantiate the quality of their products through a blind tasting.
The Challenge will run alongside ProWine Mumbai, scoring takes place on Day 1 and the winners are announced on Day 2. The scoring is open to all visitors who attend ProWine Mumbai, allowing the brands to be assessed by the very people who drink them.
The audience at ProWine Mumbai includes importers, distributors, retailers, hotel food & beverage managers, mixologists, bar & restaurant owners, members of wine and spirits clubs across the country and consumers. The trade buyers are responsible for buying large investment inventory and also determine which brands are carried in bars, restaurants and retail shops. The consumers are the actual end users of the brands and are critical for the judging process.
The Craftsmen Discussion
ProWine Mumbai 2023 will also showcase an invigorating panel discussion on 'The future of international craft spirits in India and taking Indian craft spirits globally'. The panellists include the likes of Keshav Prakash – The Vault, Angad Gandhi – Glenfiddich, Shatbhi Basu – Bar & Beverage Consultant, Pritish Matai – Aspri Spirits, Rakshay Dhariwal – Maya Pistola Agavepura, Bharat Bhagnani – Sector Gin, Malay Rout – Wine & Spirits Club of India, Michael Hussey – Bord Bia, Rahul Mehra – Stranger & Sons, among others.
"We are extremely proud to have grown ProWine Mumbai exponentially every year. Both the local wine and spirits industry and international brands looking to enter India need a strong platform to network and showcase their brands to direct and indirect customers. We are also happy to include and provide a voice to skilled bartenders this year since they are integral to the spirits industry and are responsible for raising the bar in India. We are also thrilled to create a level platform to bring spirits that deserve recognition at the ProWine Spirits Challenge. The Craftsmen Discussion I believe will be an eye opening learning experience. There's so much to taste, learn and engage with at this edition!", says Nikhil Agarwal, Founder, All Things Nice and Co-organiser of ProWine Mumbai.
The positive response and great appreciation of the industry stakeholders and sponsors paired with the sector's growth forecast promises that ProWine Mumbai 2023 will once again be well-received and well-attended.
To visit, pre-register at www.prowine.in and get your badge online.
Show Details
Exhibition: 24th & 25th November
Venue: Pavilion 3, Jio World Convention Centre, BKC, Mumbai Time: 11:00 am – 7:00 pm
Pre-register your attendance on www.prowine.in
For persons 25 years and above only
Dress Code: Formal
Visiting cards & Government Identity Cards required
Inauguration Ceremony: 24th November
Venue: Outside Pavilion 3, Jio World Convention Centre, BKC, Mumbai Time: 10:30 am
Masterclass: 24th & 25th November
Venue: Room 105 A-B, 1st Floor, Jio World Convention Centre Time: 11:00 am – 6:15 pm
Limited Seats. Seating on a first come first serve basis.
For persons 25 years and above only
The ProWine Mumbai NightIndia Wine Awards 2023: 24th November
Venue: Lotus Ballroom, Jio World Convention Centre Time: 6:30 pm – 9:00 pm
By Invitation Only

B2B Networking Evening: 24th November
Venue: Lotus Ballroom, Jio World Convention Centre Time: 7:30 pm onwards
By Invitation Only

The ProWine Spirits Challenge
Venue: Show Floor
Time: 11:00 am – 7:00 pm
Judging 24th November 2023. Winners declared on 25th November 2023For persons 25 years and above only
The Craismen Discussion: 25th November
Venue: Room 103, 1st Floor, Jio World Convention Centre Time: 12:30 pm – 1:30 pm
For persons 25 years and above only
The ProWine Bartenders' Competition: 25th November Venue: Show Floor
Time: 2:00pm – 4:00 pm
For persons 25 years and above only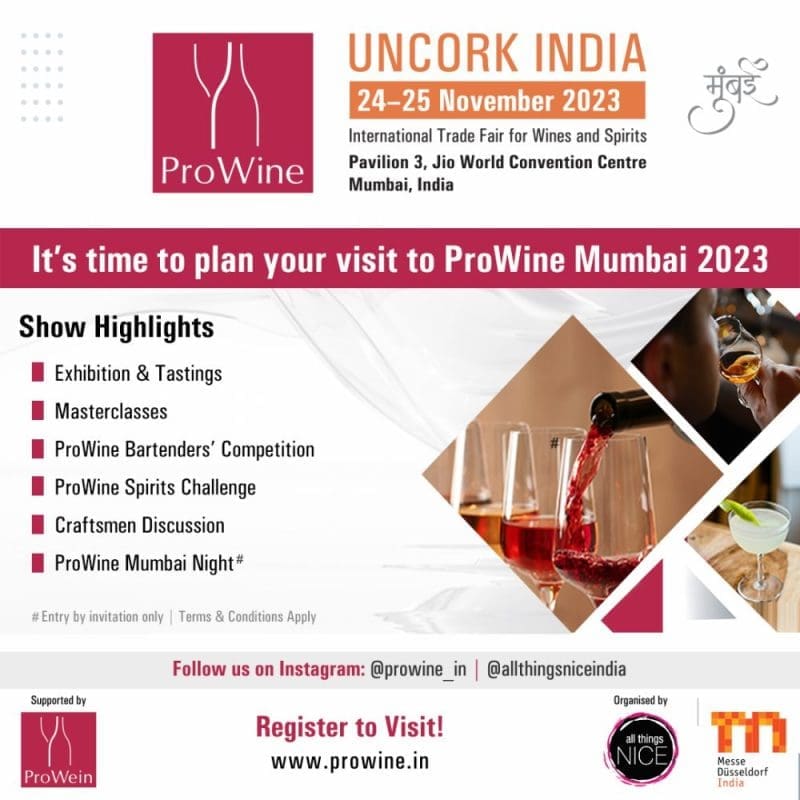 Sommelier India is a media partner of ProWine Mumbai.